The RASC Niagara Observatory
Opened in the fall of 1997, the Niagara Centre Observatory is located just a 40-minute drive from St. Catharines, and available for member use.
Made possible with the generous donations of building materials by Centre members Denis Maheu and John Nemy, the original RASC Observatory features a roll-off roof design angled at a 45 degree slope towards the Southern sky.
Roll-Off Roof Observatory
The roll-off roof section is a reinforced garage door which runs along tracks extending out from the west side of the building. The design allows for ease of operation and quick set-up and closing times. This observatory currently houses a Mead DS-16 Newtonian Reflector Telescope.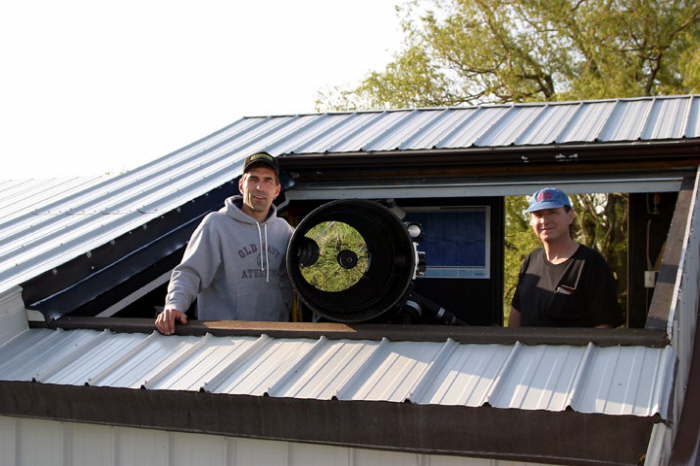 The Newest Feature at the Observatory
In recent years, the centre has added several new observing pads, and has built another roll-off roof observatory to house our brand new Losmandy G-11 tracking telescope mount.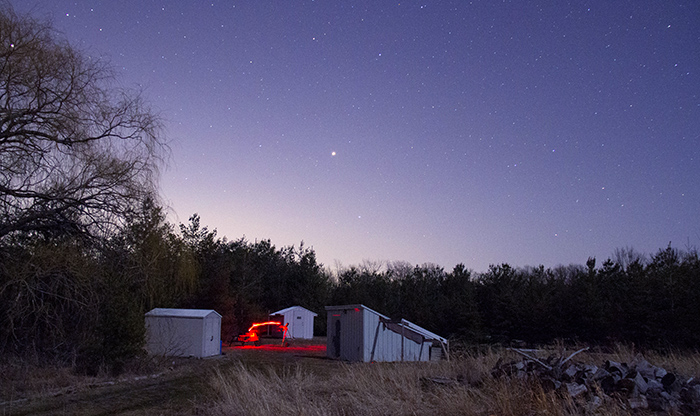 Members' Nights at the CCCA Observatory
The RASC Niagara Centre conducts monthly observing sessions for the membership, called Members' Nights. These take place on the Saturday night closest to the New Moon phase, if the weather cooperates!
The dates for Members' Nights are selected in advance by the Members' Observing Coordinator. The person who currently holds the position is Michael Panucci. To ensure dark viewing conditions, scheduled star nights are held at or near the time of a New Moon, or when the Moon rises well past midnight. Observing begins at dusk and usually lasts late into the night. Members can also be found observing at the CCCA on most clear nights.
Observing Deep-Sky Objects and Planets
A typical observing session consists of viewing currently visible planets and deep-sky objects. Members also bring their own telescopes for a specific observing activity and to provide additional observing options for the other members. Astrophotography is also a popular activity at the observatory for members with the proper equipment.
Membership Observatory Rules
To become a key code holder a member must be in good standing for 1 year before being issued a code and is required to attend a training session for both observatories.
Each member is required to pay a $10 yearly maintenance fee to be paid to the Treasurer at general meetings at the beginning of each calendar year.
The code is to be kept private and for personal use only. Misuse or sharing of codes will result in loss of use and all observatory privilages.